Many individuals find that mini-food processors perform just as well as full-sized processors. If you're only cooking for a few people, it's ideal because you can use it to dice herbs, chop almonds, mince garlic, and make salsa.
But how can you know which ones to use? We've whittled down the best mini-food processors so you can make an informed decision quickly.
List Of 10 Best Mini-Food Processors Reviews in 2023:
10. Ninja Food Chopper Express Chop NJ110GR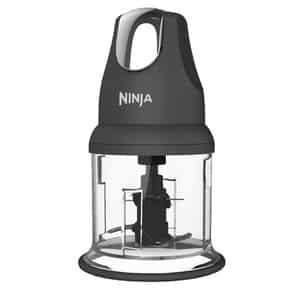 The first of the mini-food processors, with a 16-ounce food capacity and 200 watts of electricity, minces, chops, grinds, and blends a variety of food items. The large chrome pulsating button is simple to operate, and the non-slip base ensures that it stays put on your counter despite its small size and light weight.
The chopper bowl has a splash guard, as well as a storage lid to keep the food fresh. All of the removable parts can be washed in the dishwasher.
9. BLACK+DECKER HC150B 1.5-Cup Electric Food Chopper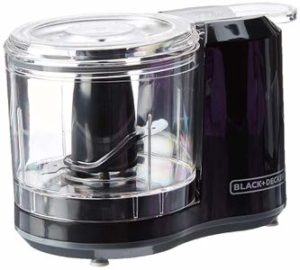 Obviously, this is only for you and possibly a friend; otherwise, the 3-cup version is required. The stainless steel bi-level blades inside are meant to stay sharp for a long time. You have 70 watts of power and a 1-touch pulse control to use for your ingredients. Cleaning is a breeze because some sections can be removed and washed in the dishwasher.
8. Hamilton Beach 72860 Stack and Press Glass Bowl Food & Vegetable Chopper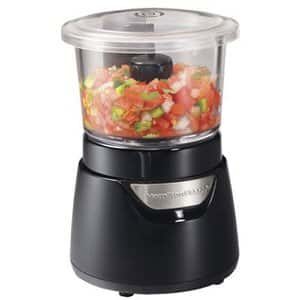 This is for chopping vegetables, as the item's name clearly indicates. Simply stack and press your vegetables, and you're ready to go. To begin chopping, simply press the lid, and when you want to stop, simply let go.
The chopper's overall design is sleek and modern, with built-in cable storage to make it simpler to store in your kitchen cabinet. The glass bowl is scratch-resistant, stain-resistant, and odor-resistant, making it simple to clean.
7. Hamilton Beach 70740 Food Processor, Slicer and Vegetable Chopper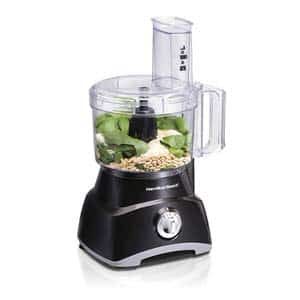 This one holds 8 cups, with a 10-cup variant available if that's not enough. However, at this size, the dish is large enough to assist feed several people while being compact enough to store easily.
This machine has a big feed chute and two speeds in addition to the pulse. You can do a lot with this because it has 450 watts of power. The bowl, blades, and lid are all dishwasher safe, making cleanup a breeze.
6. Cuisinart CH-4DC Elite Collection 4-Cup Chopper/Grinder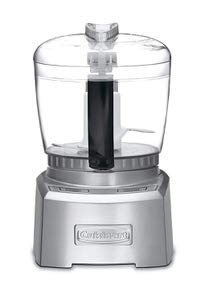 Despite the 4-cup size, the base measures 5.8 by 6.5 inches, so it doesn't take up much room. It also has a handle so you can quickly remove it from the counter.
Top 10 Reviews and Guides for the Best Portable Food Warmers in 2021
With the touchpad controls, you'll find it simple to operate. It also helps that it comes with the SmartPower blade, which automatically reverses. You don't have to remove the blade when you're finished processing since the BladeLock System retains it in place while you pour out the contents.
5. Hamilton Beach (72850) Food Processor Mini Chopper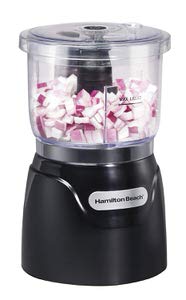 This is a great deal, and it's very simple to put up and operate. Simply place the bowl and blade on the base before covering with the lid. You start cutting after pressing the lid. It can be used for mincing and pureeing, but that's all it does.
Because it has stainless steel blades and 350 watts of electricity, it chops quite nicely. While the machine is running, you can also add liquids. Once you're done, you can effortlessly clean it in the dishwasher, since the bowl, cover, and blade are all dishwasher safe.
4. Cuisinart DLC-4CHB Mini-Prep Plus 4-Cup Food Processor
This can help you do everything from chopping herbs to finely grinding cheese. It comes with a 24-ounce bowl and a special Auto Reversing Smart Blade for food processing.
It's simple to operate thanks to the touchpad controls, and cleaning is a breeze thanks to the dishwasher-safe parts. A complimentary spatula is included with every order, as well as a recipe handbook.
3. KitchenAid KFC3516ER 3.5 Cup Food Chopper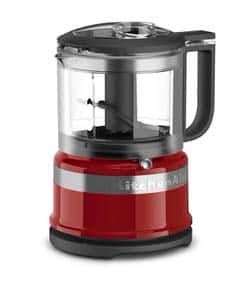 Now, this appears to be really cool. That's because there are 19 different basic colors to choose from, so you'll obviously pick the one you prefer. But what's really cool is how you can put this to use on a regular basis.
With 240 watts of power, you have two speeds to choose from as well as a pulse feature. It's been developed with a variety of functions to make your life easier in the kitchen. It comes with a locking blade, a pour spout, and a handle for convenient pouring. The blade can chop and purée, and when you pour, it locks in place.
When it comes to cleaning, simply place the work bowl, cover, and blade in the dishwasher while wiping down the remainder of the machine.
2. Cuisinart DLC-2ABC Mini-Prep Plus Food Processor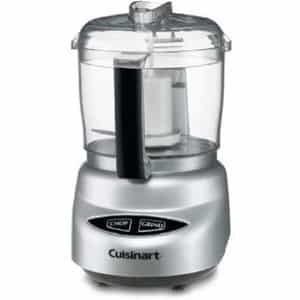 This Mini-Prep plus food processor, ranked #2 among the finest mini-food processors in 2023, comes in four color variations, with brushed chrome and nickel for macho males and pink for the distinctly feminine. The reversible stainless-steel blade, which allows you to chop and grind, will amaze you even more. You'll need a simple reversible stainless-steel blade and a 24-ounce bowl with a handle to work with 250 watts.
1. Braun FP3020 12 Cup Food Processor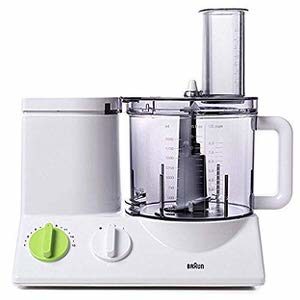 Is a 12-cup food processor still a "mini" food processor? That depends on whether or not you think the 14.9 x 11.3-inch base is excessively large. However, it is extremely powerful, with a rated power of 600 watts and a peak output of 900 watts.
Aside from the pulse feature, you can use this to chop, slice, whisk, and knead. It also has changeable speed settings. A juicer attachment is also included. It's certainly useful, and despite its power and versatility, it doesn't appear to be too large for your countertop.
Coclusion:
The greatest mini-food processors may handle everything you need for less money and with less counter space if you don't make food for a large group of people every day. You're fine to go if you find one on this list.