For comfort and balance, your child needs a special and proper seat. That is why toddler chairs are critical, unlike the regular upholstery set in your home. Here are vital factors to consider before owning a suitable piece for your precious jewel. First, it should match the age and weight of your child and the intended purpose. Second, it should also be comfortable to use, lightweight, short, durable, and made of eco-friendly materials. Finally, yet importantly, a striking color, animated, and mind-blowing design will excite your child. For this and more, keep reading to grasp the best available brands online.
List of 10 Best Toddler Chairs Review in 2023:
1. Houchics Wooden Toddler Chair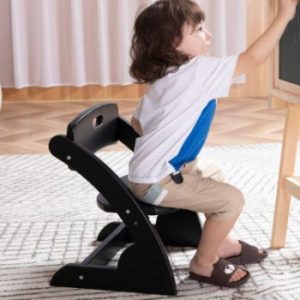 Houchics Wooden Toddler Chair is available in five colors, including this unique black one. It measures 13.4X13.8X16.1 inches; however, you can adjust its height depending on the child's age. The best part is that your child will not outgrow it, hence the three height settings to match each growth stage.
When it comes to durability, you do not have to worry. It is a hardwood product with an excellent exterior finish to pull the kid's attention. To prevent injury, it has round and smooth edges with a distinctive shape.
This unisex chair is small with creative designs for the baby's health. Therefore, it is one of the best brands for the kid's room, bedroom, playroom, and even dining room. For example, a bent back for support and comfort while assisting the child get the right posture. It also has a sound structure design for firmness on the ground, thus assuring safety.
What we like:
Measures 13.4X13.8X16
Adjustable height
Excellent for the kid's room
Excellent exterior finish
Round and smooth edges
Available in five colors
2. Skip Hop Explore & More Toddler's Activity Chairs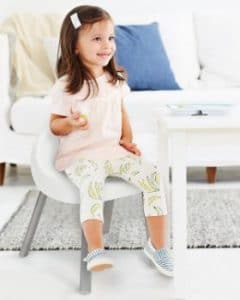 Skip Hop Explore & More Toddler's Activity Chairs are small white beautiful sitting tools. Toddler Chairs are ready-to-use; thus, no need for further assembling. The well-curated chairs measure 11.61X12.72X15.1 inches and weigh 2.35 pounds. Therefore, the product is modern and stylish in every way to suit your little one.
The comfortable and high-quality seat suits ages of one year and above. These three modes of height adjustment, metal stands with non-slip rubber ends to prevent falls and slides. Hence, the safety of your child is 100% secure.
One other brilliant concept is the ease to store due to its detachable design. Therefore, a perfect fit for an activity room. Otherwise, grab this contoured seat and allow your child to experience this third-generation initiative.
What we like:
Comes ready-to-use
The child is 100% secure
Contoured seat
Modern and stylish
Weighs 2.35 pounds
Suits ages of one year and above
3. Delta Children Foam Snuggle Chair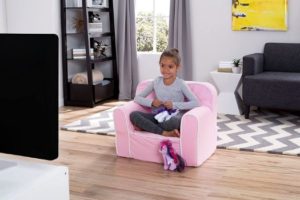 Are you struggling to get a feminine looking little chair for your little one? Delta Children Foam Snuggle is a pink and white chair that excites and interests at first sight. Measuring 18X25X20.5 inches and weighing 7 pounds, hence it is lightweight and easy to move to a favorite spot. Allow your child to have fun and be responsible for shifting between different rooms.
What a cozy and comfortable chair to use while watching the TV, reading, or relaxing with toys! Hence, it makes a beautiful décor and tool for places like the bedroom, living room, and even the playroom. Cleaning the seats is effortless and timesaving. The outer fabric is soft and has a machine-washable removable cover and contrasting piping appealing to the little eye.
Apart from blue, it is also available in blue with green and purple. Therefore, surprise your little one with these fantastic portable gifts of Toddler Chairs. Your child can use it anywhere at home without it looking odd or sacrificing his or her safety.
What we like:
Machine-washable removable cover
Appealing contrasting piping
The outer fabric is soft
Weighing 7 pounds
Comfortable chair
4. KEET Roundy Kid's Chair Denim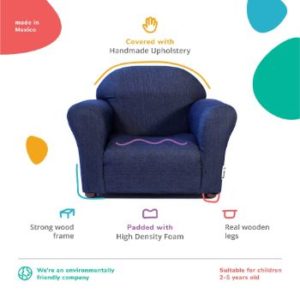 KEET Roundy is one top contender kid's chair. It measures 17X24X18 inches with a weight of 14 pounds, also available in multiple colors. The wood material product is sturdy and round shaped. Hence, it withstands the child's kickbacks and exciting moments. Another exciting feature about this sturdy but lightweight chair is its rocking legs. Nothing calms a baby that this soothing back and forth motion. The stable frame has micro-suede material that is pure polyester, soft on touch, and a high foam seat. Therefore, Toddler Chairs are comfortable, easy to clean, and maintain, thus prolonging its quality.
When handling toddlers, or older children, the denim fabric is the best. It is stain-free, durable, and can withstand frequent cleaning/vacuuming. Thus, it works in most areas such as the living room, playroom, and baby nursery.
What we like:
Lightweight chair
Micro-suede material
Sturdy and round-shaped
Weighs 14 pounds
Pure polyester fabric
5. iPlay, iLearn 2 Pcs Wooden Kids Chair Sets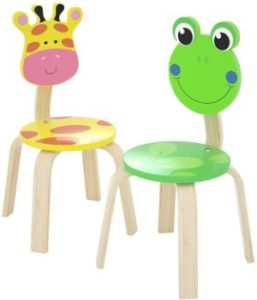 What is your child's favorite cartoon animal? Here is something to excite and interest your baby through some animal toddler chairs. iPlay iLearn is a two-piece wooden kids chair that comes in both frog and giraffe animal shapes. The two sets are of different designs but with similar functions. The brand considers protection first; thus, each seat goes through safety quality testing. Therefore, Toddler Chairs are superior quality timber product, with non-slip ends to prevent damage, falls, and noise during movement. Therefore, take extra care of it by extending its lifeline through careful cleaning using the provided guidelines.
This specialized set with smooth ends and safely screwed is excellent for areas like the kindergarten and dining room. It also works in study rooms and playrooms.
What we like:
Two-piece wooden kids' chair
Smooth ends and safely screwed
Non-slip ends
Works in most areas
Effortless to clean
Eye-catching characters
6. B. spaces by Battat – Toddler Chairs Furniture Set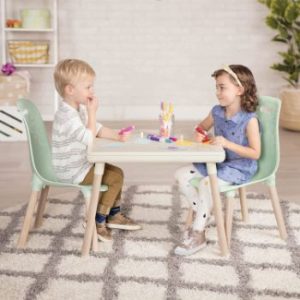 B. spaces by Battat – Kids Furniture Set are two pieces of sleek looking ivory color chairs. The plastic-made products measure 22.24X14.76X25 inches with a weight of 15 pounds. For your child to discover and wonder in their world, allow this unique little gift in your home. It is a great size for kids and toddlers.
Creative children will never miss a purpose for the twin set. Therefore, a brain-thinking tool makes a dull kid more active and productive. For easy storage, you only need to coil the legs straight to the table and chair. This mechanism saves storage space, makes it portable and easy-to-use.
The durable twin is a perfect match for three years and above children. Best used in the playroom, study room, and even dining room. Therefore, if your child has nowhere to draw, paint, or study, here it is!
What we like:
Great size for kids and toddlers
Foldable legs
Perfect match for three-year-olds
Saves storage space
Long lasting plastic
Sleek looking design
7. Flash Furniture Green Plastic Toddler Chairs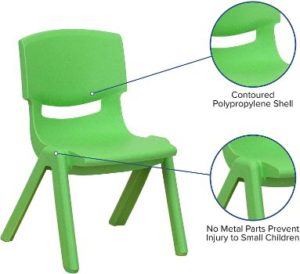 Any brightly colored chair will strike your baby's attention and curiosity. This Flash Furniture green plastic chair does that and more despite its humble design. It is available in a single piece with five other primary colors to select. The item is also excellent for older toddlers because of its 14X12.5X20 inches with a 20 pounds weight. The final product material is propylene plastic and a one-piece shell to prevent injury and inject more comfort. That is why there are no metal or joint pieces used. Therefore, it is durable, resistant to water, and rust. Besides that, it is also lightweight, sturdy, and even affordable.
Indeed, it is an excellent piece for kindergarten, nursery, homeschool, and playrooms for good sitting habits. Therefore, if you want a portable and secure chair for your developing child, here is one! Browse through the available option and order your child's favorite color. Toddler Chairs never disappoint.
What we like:
Sturdy (20 pounds)
Portable and secure chair
Five primary colors
Durable propylene plastic
Resistant to water
Durable single piece design
8. Flash Furniture Deluxe Padded Contemporary Purple Vinyl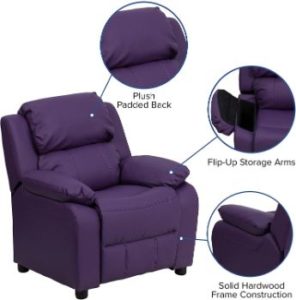 What is your kid's favorite color? Here is Flash Furniture Deluxe Padded chair to truly electrify and contain your baby. It has a royal kind of purple color with eco-friendly vinyl material over a compact hardwood frame. The seat is a perfect match for developing and active kids, hence resistant to tear and wear. The plush paddle offers endless hours of comfort and a better sitting position. For easy use of beverages, use the in-built cup holder to reduce spills.
Besides that, the paddle is a product of CA117 fire retardant foam, thus safe enough for your toddler. It also has a hands-free assistant kit giving room to focus on other creative activities. With a weight of 28 pounds and measuring 39X25X28 inches, this easy-to-clean chair with an extra-large headrest and raised elastic legs, nothing else beats this classy item.
What we like:
Easy-to-clean
Extra-large headrest
Raised elastic legs
Eco-friendly vinyl cover
Comfortable sitting position
In-built cup holder
9. Summer Infant Pop and Toddler Chairs Portable Booster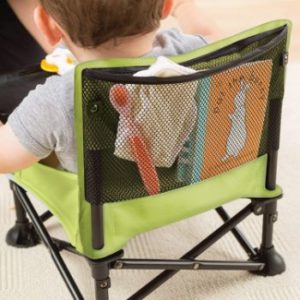 It is challenging for most parents to contain their toddlers during feeding. However, this eye-catching green Summer Infant Pop and Sit Portable Booster chair has no more endless feeding trips. The advanced and stylish chair has all the versatility properties you may need for your little one.
The safe metal material is light, portable, and an excellent piece for in and outdoor use. Besides that, it is detachable for easy transportation and storage. Therefore, if you plan to travel or camp with your toddler, detach the pieces and pack them in the carry case. It is also quick and easy to re-assemble back.
Feeding time is anytime with the 1.97 grams lightweight kit that measures 15X14X15 inches. It also comes with an attached safe BPA free tray. To secure your baby into position, a safety harness feature is available. Thus if you need the best toddler chairs your kid will love using for long, this is the best.
What we like:
Lightweight kit (1.97 grams)
BPA free tray for children
Easy transportation and storage
Built-in safety harness
Foldable for easy storage
10. Humble Crew 2-1 Plastic Toddler Chairs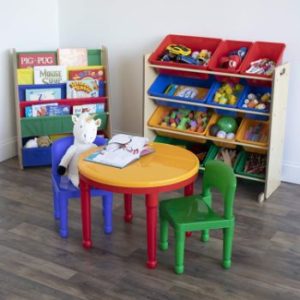 This plastic set measures 23X23X17 inches with a weight of 9.92 pounds. It is indeed lightweight and portable for daily use. Tap your baby's talents using these plastic building blocks, removable cover, and Duplo-blocks adventure. Here is a little secret; keep your boy or girl busy all day with this pleasant surprise.
Otherwise, it is a long-lasting and easy-to-clean set and ideal for any space. It is also suitable for the living room, playroom, and even school. Practice makes perfect with this colorful humble crew seat. Guess what!
It is now time to grab one of these fantastic toddler chairs for your kids to snack, relax, read, and watch television or movies. They can also engage in other creative activities in school and at home.
What we like:
Works in the living room, playroom
Easy-to-clean set
Long lasting construction
Durable removable cover
Plastic building blocks
Lightweight and portable
Removable cover